TRIteamPDX
- Dedicated to fun.
TRI Team PDX is a Portland, Oregon based triathlon group created to bring fellow multi-sport athletes together to train and race. We are focused on building a structured beginners series for those new to the sport, as well as consistent group workouts that triathletes of all abilities can benefit from. We also pride ourselves on providing incredible race support, amazing partners and discounts, and an abundance of social activities.
  Supporting multi-sport athletes of all abilities and different levels.

  Partnering with wonderfully supportive companies & organizations.

  Organizing inclusive social activities & events.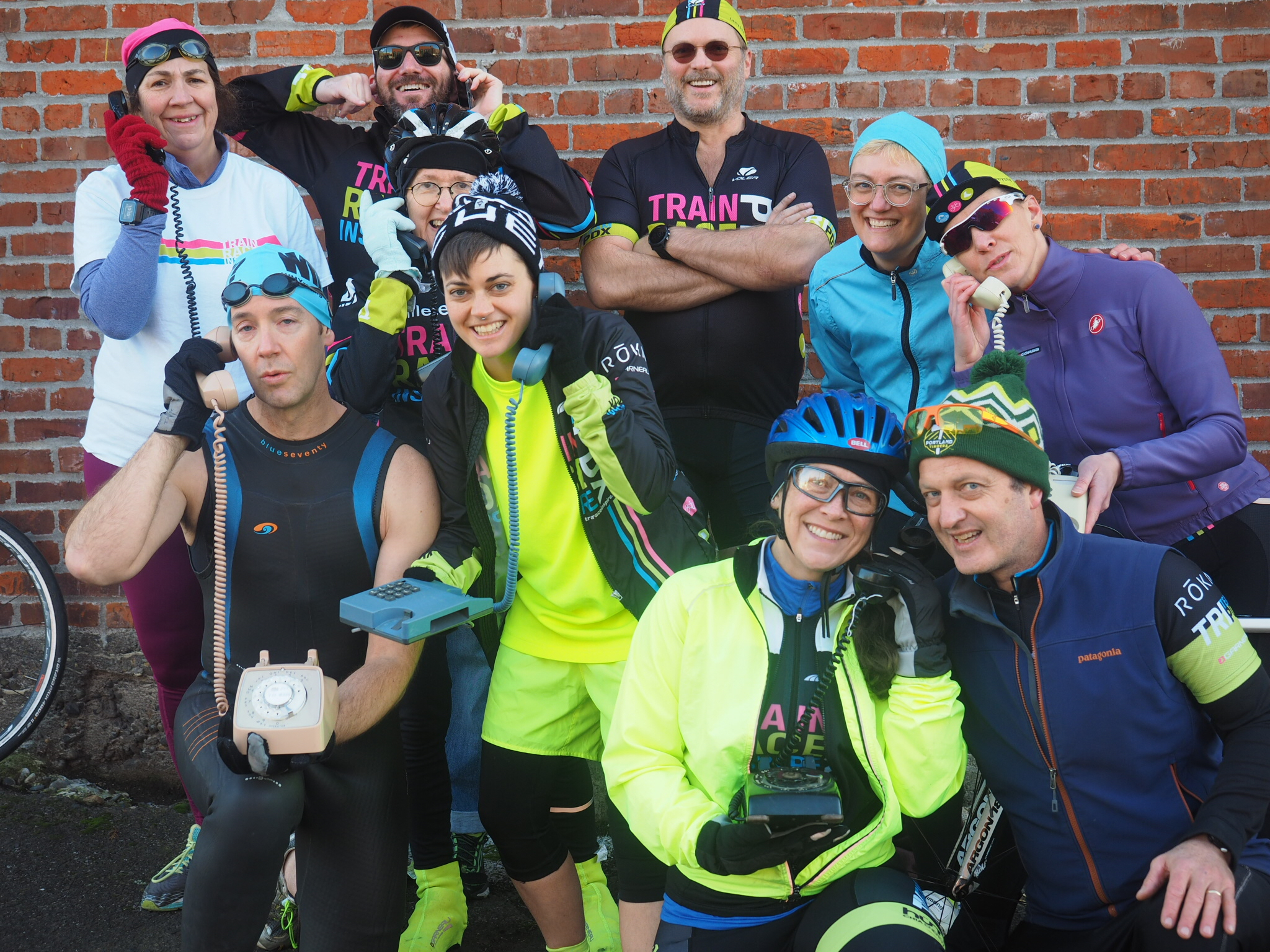 Our Team
- Dedicated, adventurous people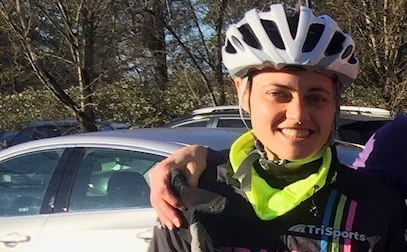 Elsa Hume
Past President
Elsa has been training for sports from a young age - running laps at the local park and always trying to improve her times with each session. Her fond memories from two youth triathlons she participated in when she was 9 and 10 years old inspired her to join Tri Team PDX in her late 20's and take up the sport again. Her journey with the team has led her to amazingly supportive friends, 4 successful Half Ironman finishes, and fun group activities almost every day of the week! She is passionate about bringing people together to train and hang in the great outdoors while observing little (and big) critters along the way. She hopes you'll consider joining in on these adventures with Tri Team PDX!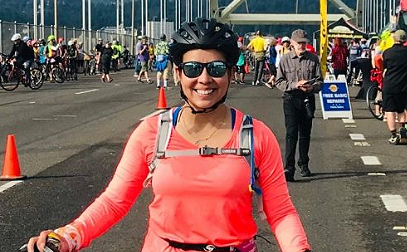 Evelyn Macias
Communications Director
Evelyn joined Tri TeamPDX within a couple of weeks of moving to Portland in July 2019. She was searching for a group of people that were inclusive and supportive to train with for all her bucket list endurance events. Evelyn started running cross country in 1995 and once in college decided to increase her mileage to run a marathon. Since then, she has done a couple of obstacle races, Ragnar relays, bike ride races, and backpacked through the Colorado Rocky Mountains. In 2014, she did her first super sprint triathlon and fell in love with the challenge of tackling 3 disciplines at the same time. Her next challenges are a 50K and her 2nd half-Ironman. She is excited to now give back to the community the same support she got when she first joined.
Nicole Ferriter
Marketing & Social Media
Nicole grew up in California, but in the summer of 2010, moved to the colder mountains of Bozeman, MT to play volleyball for the Montana State Bobcats. After her collegiate career wrapped up, she needed a new sport to be overly competitive with, and a friend signed her up for her first Olympic triathlon, unbeknownst to her at the time. After completing her first Olympic distance tri (during which she missed a turn and ran half a mile in the wrong direction), she was hooked! She moved to Portland in the spring of 2017 and joined Tri Team PDX in 2018. With the support of the TTPDX community, she completed her first Half-Ironman in 2018. Since then, she has hired a coach and completed Half-Ironman Victoria as well as Best in the West Half-Iron over 45 minutes faster than her previous time! Nicole enjoys racing, but more so the free beer at the finish line.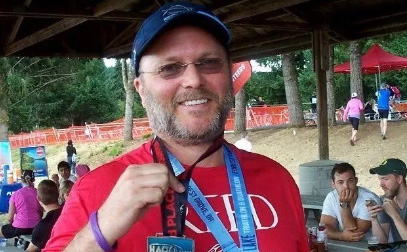 Sebastian Pastore
Sporty Spice
Sebastian got his start in triathlon as so many people do, through Team in Training in 2013. His first triathlon was the San Diego Classic Olympic. He joined Tri Team PDX around then and completed a string of shorter triathlons and road races before completing his first Ironman distance in 2016. That evolved into working with a coach and completing his second Ironman in 2017, 90 minutes faster than the previous year. He has been doing this for five years and has learned a lot about everything having to do with triathlons except how to run fast. But he is really really good at changing tires, after having had to change six (6) in one race in 2015.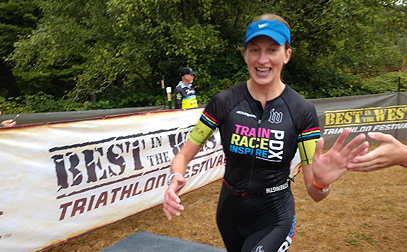 Emily Lighthipe
Overachiever
Emily Lighthipe is a Portland native who made it a goal to compete in her first triathlon in 2018 after donating her kidney to a stranger. Since then, she has made a full recovery and has completed 8 sprint triathlons always with the goal to go faster and learn more each time. Emily discovered TRI Team PDX in January 2019 and was instantly drawn to the camaraderie and welcoming atmosphere. She is happy to serve as your volunteer coordinator and ride lead coordinator and might just hit you up to help out sometime in the near future! Emily is also Ride Leader Coordinator, Volunteer coordinator and Best in the West partner ambassador!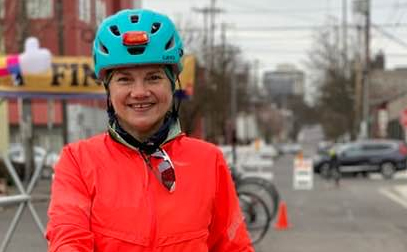 Shelly Caldwell
Website Grunt
Shelly hit 50 and realized she couldn't rely on good genes and a healthy metabolism any longer and that she needed accountability, goals and a community of like-minded folks to keep her sane. Luckily she was talked into doing her first Tri Sprint by a friend and neighbor (now also a member!) in 2018 and fell in love with the challenge. The sport is perfect for those who, like Shelly, get bored easily. Being part of Tri Team PDX has been a total blast – the people are amazing! As one of the oldest and slowest - Shelly wants to encourage others to take up the sport and see for themselves what a wonderful transformation it can bring regardless of where they start or how fast they get to the finish line.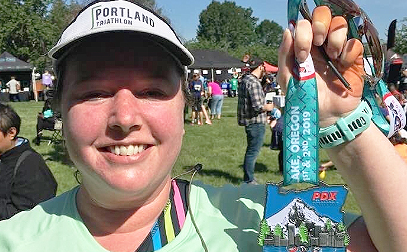 Nichole Swanberg
Director of Fun
Nichole grew up in the Upper Peninsula of Michigan where mountain biking, cross country skiing, kayaking, hiking, snowshoeing and swimming in Lake Superior are a part of everyday life. She moved to Portland in 2010 and joined a women's dragon boat racing team. In 2013, she signed-up for the Portland Sprint Triathlon in Cathedral Park. Prior to the event, she taught herself the freestyle stroke (poorly) by watching YouTube videos. She showed-up to the race with a borrowed road bike and surfing wetsuit. It wasn't easy but finishing felt amazing! She enjoys the sweet freedom of riding a bicycle and spent a season on Gladys Bike's Gladiators cyclocross team. Following a number of medical procedures, she joined TTPDX in 2019. With a renewed focus on her fitness level, her goal is to finish more sprint triathlons. Through TTPDX coached swim practices by CBCG, she' slowing improving her swim stroke. She values the encouraging community of TTPDX that includes athletes who are in various stages of training.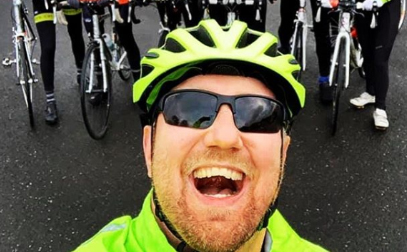 Adam Peterson
Zwifter Guru
I am fairly new to being a multi sport athlete, but once I discovered this community, I hit the ground running (pun intended). In my first year competing (is it really considered competing if you are only really racing against yourself? I think yes!) I did my first sprint, Olympic and 70.3 races. This year for 2020 I am training for my first Ironman in St George, Utah! I have an amazing support team with a lovely wife, Melissa, supportive parents and a St. Bernard named Addison who are almost always at the races to cheer my on. I could not be more thankful to have some incredible people in my life. When not training/ racing I enjoy eating awesome food, drinking great wine and beer, skiing and exploring what this amazing area provides. I am also very fortunate to have a job that I love working in children's mental health. I truly love this triathlon community and the people I have developed relationships with on TRI Team PDX! I am excited and honored to serve on the board for the 2020 season!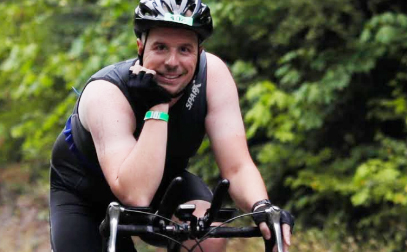 Nicholas Surgnier
Treasurer
While on a vacation in Hawaii in 2019, Nic happened to meet up with a friend coaching a triathlon race(Lava Man). Destiny intertwined and 45 days later, he completed his first sprint. With his amazing family supporting him, he dove into bigger/tougher races and challenges. In 2020 he hopes to complete his first full distance Ironman Race. Finding TTPDX was a natural progression in the journey of triathlons and he is "thrilled" at the opportunity to be able to help give back and strengthen the team, community, and sport.